SWING DOORS - Record DFA 127

Your platform for all automatic swing door applications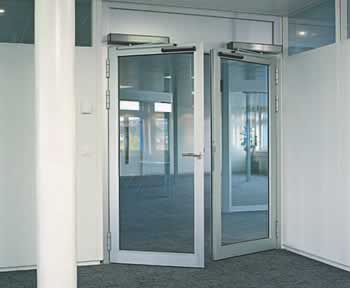 Record's DFA 127: the universal electro-mechanical swing door operator
One basic version… 3 operator models
universal application
exeptionally quiet

adjustable spring tension

(EN4-6)

Choose the right operator to meet your swing door needs...

The exceptionally quiet DFA 127 is record's first basis model swing door operator, allowing a wide range of applications. It's modular design and construction employs all new technology and features on-site adjustable spring tension permitting the DFA 127 to be used for all door sizes from EN4 to EN6.
record DFA 127
the universal door for practically all applications
> same design > same equipment > same software

> New control unit
with practical display
> also as automatic door control system for fire and smoke-proof applications
> with sequential control master/slave operation
> interlock function
> EN6 with standard and sliding arms
What are the benefits of record's swing door operator system?
Features and benefits at a glance:
> One basic model > modular design and construction > for hinge side and side opposite hinges > for all assembly types
All three operator models feature:

same operator housing
same control panel
same technical design
same exceptionally quiet running
same intelligent operation
same accessories
same easy-to-maintain features
all assembly types
same networking capability with record ADM systems

The benefits of the DFA 127:

Benefits for end-users



standardised design
standardised operation
standardised maintenance
cost benefits
exceptionally quiet

Benefits for planners



universal model simplifies planning
same design
same technology and connectability

Benefits for assemblers



same assembly
same start-up
same spare parts
high flexibility due to on-site adjustable spring tension

Recommended applications:

The

DFA

FULL POWER


operator is suitable
for all standard applications.
For environments requiring gentle operation, the

LOW ENERGY

model is best.
The

INVERS

model
is the right choice
for opening without current.
FULL POWER DFA 127
The powerful ALL ROUNDER
the electro-mechanical swing door operator for all standard applications
The DFA 127 FULL POWER is record's universal swing door operator, a new, powerful member of record's product family. This new automatic door features tried and tested technology, compact design and exceptionally quiet operation. It features powerful operation and multiple applications and has an on-site adjustable spring tension, enabling it to operate door sizes ranging from EN4 to EN6. The new operator has additional flexibility features, easily allowing the customer to modify door functions on-the-spot, precisely to suit local needs and conditions.
Refined technologies combined with record's new controller allow complex functionality with optimal power deployment over the whole swing area. In addition, its compact dimensions and modular construction enable all assembly types, permitting the installation of standard or sliding arms (on hinge side/on opposite hinge side, DIN left/right). record's sensor products, used as motion detector devices, ensure safe and reliable operation, time after time.
FULL POWER DFA 127
Multiple Applications
The DFA 127 can be used as an automatic door in escape and rescue routes and for fire and smoke-proof door applications.
Other applications include two-leaf doors with individually working operators, programmed for sequential control (master/slave operation), as well as security interlock function for doors assembled in series.
2 leaf doors

with sequential control for master / slave operation (operator in extended housing)
1 leaf standard door

2 leaf doors with two-way traffic

direction-setting, operators function individually.

Security interlock

function with doors assembled in serie

Automatic door control system for 1 or 2 leaf doors

Fire and smoke-proof door (installation on opposite side to hinges).
FULL POWER - the strong door automation system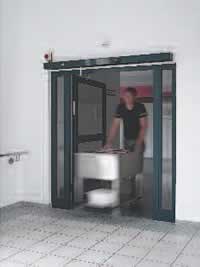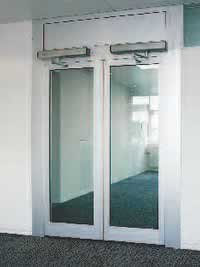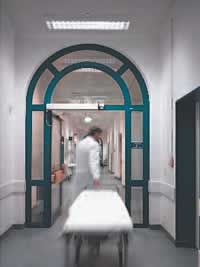 FULL POWER DFA 127 > many assembly variations > tried and tested technology > powerful, reliable performance
LOW ENERGY DFA 127LE
The GENTLE swing door operator the electro-mechanical operator when caution is required.
The LOW ENERGY DFA 127 LE is the ideal operator for hospitals and old people's homes, i.e. for environments populated by slow moving persons or the elderly.
The LOW ENERGY DFA 127 LE swing door operator is the perfect choice for these applications, providing safe and secure access.
The door opens automatically, and only after a pre-programmed time delay slowly shuts again. Motion energy is kept to a minimum in order not to endanger persons in the door passage area.
Like the FULL POWER model, the LOW ENERGY operator is exceptionally quiet in operation, and of elegant, compact design. The control unit features a user-friendly display, easily enabling adjustment, programming and servicing. Door movements and spring tension (for door sizes EN4 to EN6) can be adjusted by the customer on-site. The refined technology and modular construction allow the installation of all assembly variants with standard or sliding arms (on hinge side/on side opposite hinges, DIN left/right). It record's range of sensors ensure all automatic door applications have the required level of reliability, safety and security.
LOW ENERGY DFA 127 LE
especially suitable for:
> solutions for the elderly and physically challenged, i.e. hospitals
and old people's homes
> the LOW ENERGY DFA 127 LE is qualified for all applications
like record DFA 127 FULL POWER.
LOW ENERGY - the gentle swing door operator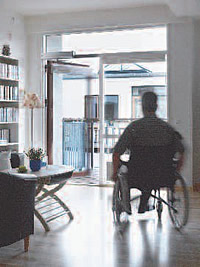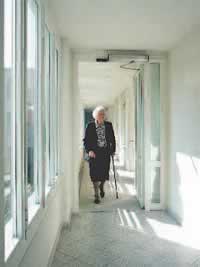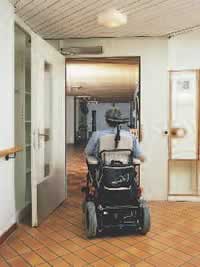 LOW ENERGY DFA 127LE > exceptionally quiet > compact design > user-specific settings
INVERS DFA 127IN
THE INVERS DFA 127IN
the swing door operator that functions in power failures
By contrast with the other two swing door operators, the INVERS version uses spring tension, although in normal use, the door is closed using a motor. The INVERS DFA 127IN looks like the basis model, with identical automation. The INVERS swing door operator uses the same technology as the DFA 127 FULL POWER and LOW ENERGY models.
Same design, same handling, same software. However, the INVERS DFA 127IN shows its true colours in emergency situations, e.g. during a power failure in a fire. Here, when other doors have closed, the INVERS DFA 127IN automatically opens.
In case of power failure and smoke formation, the operator's reverse function allows access to escape and rescue routes. The operator can work using mechanical energy (spring tension) without current, i.e. in a power cut. For large buildings the operators can be used to direct fresh air inside, or smoke and heat to escape.
In normal conditions, the INVERS DFA 127IN is button-activated. The use of normal motion detectors depends on the individual situation.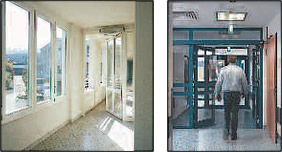 INVERS DFA 127IN
especially suitable for:
> large buildings, such as clinics,
theatres congress centres etc.
as an emergency access
and ventilation system
INVERS - The operator that opens without current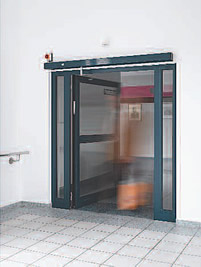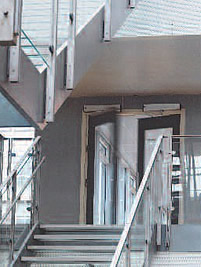 INVERS DFA 127IN > opens independently with spring tension > safe
and reliable also in emergencies cases
---
Specifications >FULL POWER > LOW ENERGY > INVERS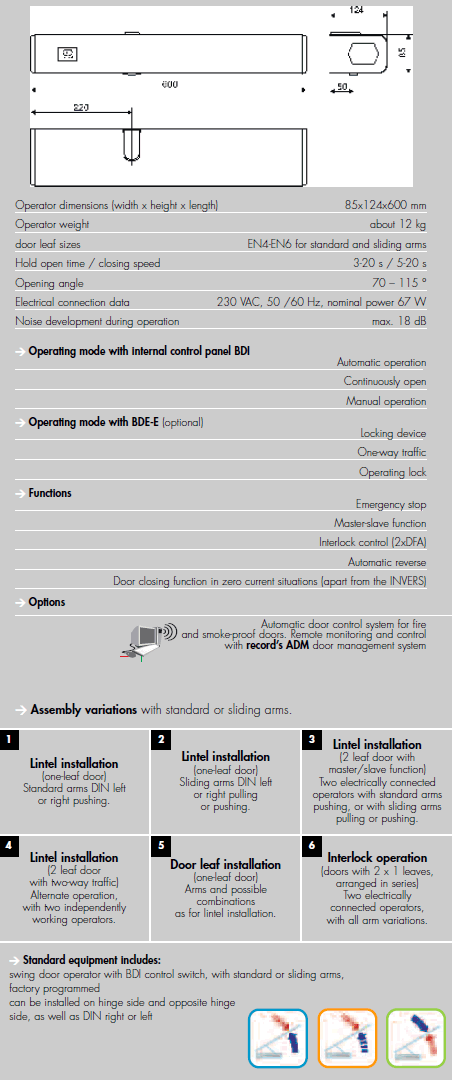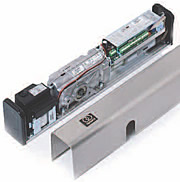 Accessories, variants and options
FULL POWER > LOW ENERGY > INVERS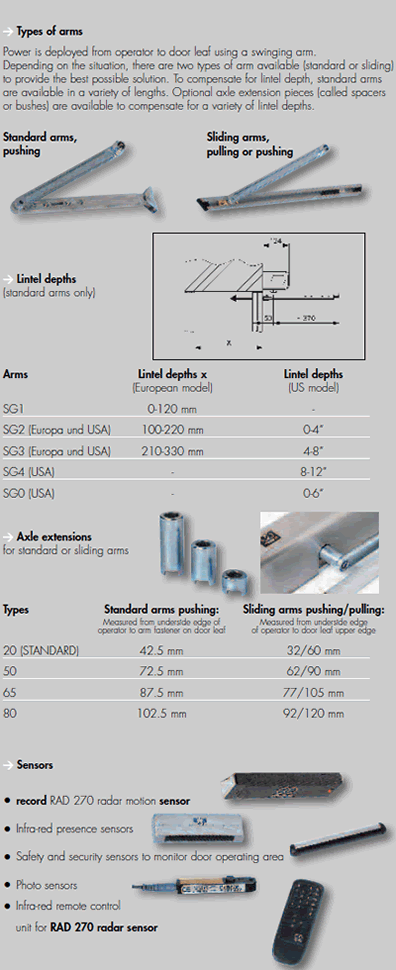 Main switch

Smoke & fire detector

Trigger devices




* Radar RAD 270

PIR sensor
Proximity IR
Push button
Pull switch
Remote controller CEPROX IR
Key operated contact
* Remote control
for Radar RAD 270

Safety + security sensors

Emergency
switch
Sensor to monitor door swing area

Safety sensor (both sides)
Presence detector
IR HR94 D (Flexible cable
routing for existing doors)

Electric Lock

Additional options


Interlock control (master/master)
Master/slave sequential control
can be used in escape routes
to open fire and smoke proof
doors(approval necessary)

Locking contacts

Control panel




BDI (toggle switch)
BDE-D with display
Manuel switch
Portable control unit

Centralised door management

record ADMpro




record ADMopen


LON 16 Interface
Web camera