STANLEY ARCHITECTURAL HINGES
The basis for any secure entrance lies with ensuring that the door is mounted with appropriate hinges to guarantee that the door does not drop and cause damage to the door, the frame or the hardware mounted on or close to the door.
Door Spring Supplies are able to recommend a range of hinges depending upon the size and weight of the door along with the expected traffic volumes. We have a long experience of specifying Stanley Architectural Hinges from a range that includes both CE marked Stanley stainless steel hinges and the Stanley spring hinge.
Stocked in quantities we are able to provide assistance in the generation of the most appropriate specification for a given project.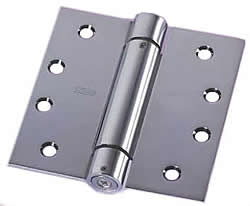 Stanley 2060R Ratchet Adjusting Spring Hinge and 2060C Companion Hinge
The main features of these hinges are:
Combines hanging and closing of door
Reduces the opportunity for vandalism
Fast and easy to adjust
Lifetime warranty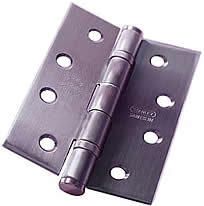 Stanley FM10076 CE Marked Stainless Steel Full Mortice Hinge
The main features of this hinge are:
Stainless steel
Full CE certification to Grade 13
US32D satin stainless steel and US32 polished stainless steel finishes available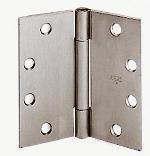 Stanley CB1960R Concealed Bearing CE Marked Stainless Steel Hinge
The main features of this hinge are:
Full CE certification to Grade 13
Certifire approved
Pantented LifeStan bearing system
Limited LifeSpan Warranty - for the life of the building
US32D satin stainless steel, US32 polished stainless steel and US3 polished brass plated on stainless steel finishes available