STANLEY CART DOOR SYSTEM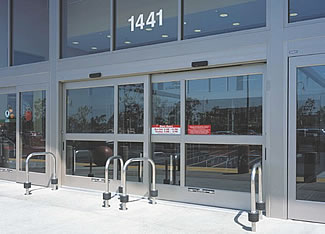 Ideal solution for retail shopping carts & carriages;

Extra wide door panels make cart storage easy

Offers architects an attractive storage door choice away from customer entry/exit

Selectable left panel or right panel automatic access

Push plate activation optimized for frequent use

Available in four package widths: 11ft, 12 ft, 13ft & 14ft

Maximum clear door opening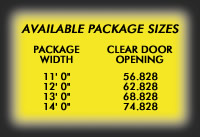 DESIGNED TO MEET THE NEEDS OF RETAIL ENVIRONMENTS
REQUIRING A SOLUTION FOR CARTS AND CARRIAGES.
The Cart Door System has been developed to meet the needs of the busy retail environment by providing an elegant design solution for carts and carriages. The cart door system offers an innovative product for architects and store design teams looking for an aesthetically pleasing design solution. The extra wide door panels make for easy access of carts and carriages.
Access is available from either the left or right panel due to the fact that both panels slide offering the maximum available clear door opening. Employees can activate by push plate only the left panel until the left side has been filled and then activate the right panel push plate and fill the right side, providing for the most economical use of space in busy retail environments where space is always at a premium.
Stanley Automatic Door Systems - the safest, most cost effective solutions available today.