BYPASS DOORS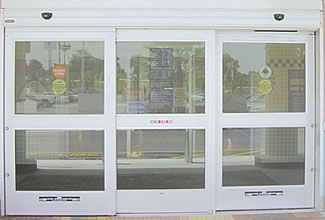 LARGER CLEAR DOOR OPENING

INCREASE PEDESTRIAN TRAFFIC FLOW

AVOID POTENTIAL ACCIDENTS

CONTINUOUS HEADER FOR ENTRANCE & EXIT

SIMPLIFIES BUILDING DESIGN

BREAK OUT FOR EMERGENCY EGRESS

AVAILABLE IN IMPACT VERSION (NOA 03-0605.03)
IMPROVE EASE OF ENTRY AND EXIT WITH BYPASS DOORS.
Larger clear door opening increases pedestrian traffic flow by directing traffic and avoiding potential accidents.

Provides the same clear door opening in a 12' ByPass as a 16' bipart slide. Continuous header for both entrance and exit simplifies building design.

Exit door can be broken out at any point for emergency egress while the entrance door can be broken out in a fully-closed position.

Available in non-impact. Impact version designed for structures withstanding hurricane forces with a 70psf wind load rating.

Impact version meets Miami-Dade protocol and is designed with foam block insulation, reinforced bottom pivot, lock/unlock indicators and flush bolt security.
The ByPass Door System - the most rugged, solid, safe, and cost effective solution for pedestrian traffic control.
Door packages are custom manufactured to fit your job requirements. For sizes greater or smaller than typical, contact us as above
HEADER SIZE: 8" (203mm) high x 6" (152mm) deep, 2 packages included for 12" overall depth
DOOR PACKAGE SIZE: Standard: 116" min. width / 220.5" max. width / 7'-8" typical height Impact: 122" min. width / 168" max. width / 7'-8" available height
IMPACT OPTION: +/- 70 psf
DOOR PANEL WEIGHT: up to 220 pounds each (100kg)
DRIVE SYSTEM: 1/4 HP DC motor standard
CONTROLLER: microprocessor based, safety logic, watchdog LED
SENSORS: 2 for motion (switchable between uni-directional and bidirectional) and 1 StanGuard® and doorway holding beam for safety.
Stan-Vision™ Digital Video Cameras Optional. Mats, wallplates, radio control optional.
BREAKOUT: SX on the Entrance (when fully closed); SX panel on the Exit
POWER REQUIRED: 120 VAC, 10 amps min.
TEMPERATURE RATING: -30F to +130F
CODE COMPLIANCE: ANSI A156.10, NFPA 101, UL, cUL, IBC, ICBO, BOCA, South Florida Building Code, Miami-Dade County Compliance, NOA 03-0605.03.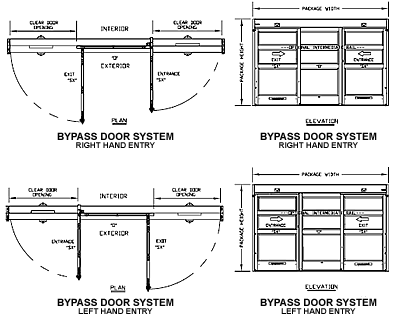 ADDITIONAL FEATURES:
BREAKOUT
The ByPass is available with emergency breakout on both the exit SX panel and the entrance SX panel when fully closed. Optional fly open box can be used to slide open entrance door in the event of power outage or fire alarm.
ACTIVATION
Two SU-100 motion sensors, doorway holding beams and one StanGuard® threshold sensor per door opening. Stan-Vision™ Video Sensor optional.
WIND RESISTANT DAMPER
Enhances wind resistance when the doors are broken out (or in emergency / breakaway). Can minimize repair costs and risk of injury from uncontrolled opening of the door panel.
IMPACT OPTIONS:
IMPACT GLASS: 9/16" Impact glass is standard on impact models - scratch resistant polycarbonate laminate is centralized within glass lites eliminating surface scratching. 1/4" Tempered glass is standard on non-impact models. Custom tint colors optional for both.

STEEL REINFORCED O-PANEL: Steel reinforcements prevent door panel deflection during high pressure lateral loading.
ADDITIONAL OPTIONS:
REDUNDANT SAFETY OPTIONS
Safety system is enhanced with StanGuard® active infrared threshold safety system, standard on every Stanley door, making Stanley doors the safest in the industry. Further safety and security can be enhanced with the addition of the Stanley state of the art Stan-Vision™ digital video motion sensor with CCTV uplink.
STAN-VISION™

Digital surveillance camera that automates doors:
— Safety & motion detection in one sensor.
— Computer configurable sensor zones.
— Redundant safety zone coverage.
— Ignores parallel traffic.
— Continues to detect motion when door is inactive
Door packages are custom manufactured to fit your job requirements. For sizes greater or smaller than typical, contact us as above.