Speed Gates and Optical Turnstiles - OG1 Optical Gate
Our speed gates and optical turnstiles have been developed for commercial applications such as office lobbies and schools, where high numbers of people pass without restricting the freedom of movement but still employing a level of security. All speed gate and optical turnstiles are easily integrated with access control systems.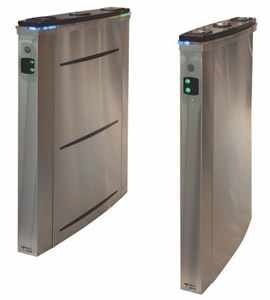 OG1 OPTICAL GATE
FEATURES
Stainless steel (304) chassis and natural granite top (Star Galaxy Black).
Five photocell detectors per lane.
Built-in alarm / alert system.
Right & left direction indicators.
Top pass indicators.
Can be integrated with most access control systems.
Can be controlled in both directions.
Can be configured for single or multiple lanes.
Click HERE to return to Speed Gates summary page