Our speed gates and optical turnstiles have been developed for commercial applications such as office lobbies and schools, where high numbers of people pass without restricting the freedom of movement but still employing a level of security. All speed gate and optical turnstiles are easily integrated with access control systems.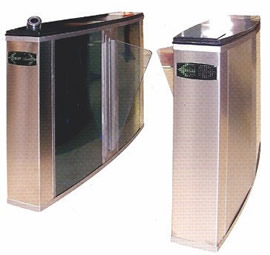 HG1 HIDDEN SPEED GATE
FEATURES
Activated by dry contact or via TTL input 5-48v.
Can be controlled via RS 232, RS 485 or LAN network.
Can be integrated with all kinds of access control units
and token systems.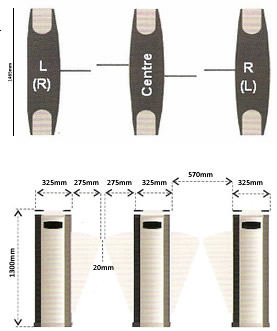 SPECIFICATION
Dimensions:

1. 1465 x 1300 x 325 + wing length (275) mm.
2. 1465 x 1300 x 325 + wing length (2 x 275) mm.
Weight:

1. 90kg. 2. 90kg.
Body: The central and the front panels satin stainless steel, lateral panels are grid patterned stainless steel.
Top Cover: Standard top cover is black granite 20mm. Optional different granite patterns and colours, stainless steel or wood.
Wings: Soft blue illuminated, 6 mm laminated glass. Optional 10mm Acrylic.
Power: 220 v. 50 Hz. Standby 1.~24W, 2. ~49W. Max. 1. ~39W, 2. ~78W.
Flow Rate: Number of People / minute - 12 to 40max dependant on environment & access control system.
Click HERE to return to Speed Gates summary page