DELTA ROLL 1000 SECURITY ROLLER SHUTTER DOOR
Product Description
The Delta Roll 1000 tube operated roller shutter is designed for applications where security is off paramount importance. The door is electrically driven via a motor mounted within the barrel of the door and can only be used in general 10 – 15 times per day. If frequent usage is required then our other Delta Roll products are to be used. The door is ideally suited to shop front applications, office building security, etc where the door will only be used at the start and end of the day. Obviously usage during the day is not a problem as long as this is limited. The compact design and in board motor etc ensures that the door is adaptable to most environments whether fitted inside or out.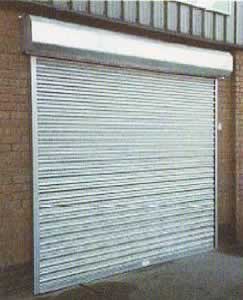 Curtain
Constructed from 75mm wide curved section in 22SWG, 20SWG or 18SWG (over 22 Sqm), interlocking galvanizedEN10142 bright spangle) steel lath finished with a T or L section bottom rail. Each lath is locked together to prevent lateral movement using a nylon/steel end locks.
The curtain can be supplied in solid, perforated or a punched format. The punchings can be supplied in either an inline or brick bond type format. In addition to the above tube and link curtains are available.
The above types of curtain can be supplied in either standard galvanized, powder coated or plastisol.
Barrel
Constructed from ERW steel tube mounted on a steel stub shaft with integral bearing in one end and the motor fitted at the opposite end. Each end is located into cups fitted to the end plates. Barrels can incorporate helical torsion springs to counterbalance the weight of the curtain. Subject to a risk assessment the non drive end can be fitted with an inertia safety anti fall brake which will arrest the curtain in the event of the motor failing.
Electrical Operation
By means of a single phase tube motor complete with integral limits and emergency winding handle facility. The size of the motor is calculated by the weight of the door and the number of operations. The door is controlled as standard from rocker switch, key switch or radio control.
Electrical Supply
240 Volt 1 phase 16 amp
Further information available on request.
Guides
Constructed from 3mm x 63mm steel wind guide channel bolted to 75mm x 50mm steel angle. For large exposed doors, either deeper guide channels are used or wind locked guides complete with fitting steel wind locks to the curtain in addition to the end locks.
Operation
Normally shutters are operated dead man via the rocker or key switch. When radio controls are fitted push to run open operation is available. Push to run close operation can only be fitted if additional safety features are added i.e. electric safety edge or a photo cell.
Standard Finish
Galvanized
One coat of primer paint, on non-galvanized faces.
Optional Extras
Plastisol Coated Lath
Perforated Lath
Punched Lath
Powder Coated
Wicket gate for manual or electrical operated shutters.
Canopies, Fascia and Motor Covers.
Bottom Draught Strips.Side Brush Seals.
Electrical Optional Extras
Group Controllers

Key Switch

Remote Control