Architectural Hardware Products:
Mechanical Digital Locks
The Keylex range of locks has been marketed by Relcross in the UK for over twenty years. During this time the range has been developed with significant input from Relcross to include digital solutions to just about every scenario.
The Relcross range of mechanical digital locks has been chosen not only because it will outlast and outperform anything on the market today but because it can be used successfully in conjunction with other door hardware giving proven reliability in the most demanding security and panic escape situations.
Relcross can recommend a Keylex digital lock at four different levels of security and can incorporate digital access with any number of different manufacturers panic escape hardware devices or security sash locks.
Follow the Product Detail links for Download Guidance Material and Keylex Specification Information
Categories in Mechanical Digital Locks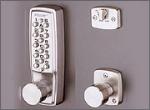 Keylex 2100 - High Security, Heavy Duty Mechanical Digital Lock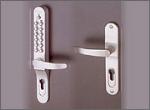 Keylex 700 - High Security, Standard Duty Mechanical Digital Lock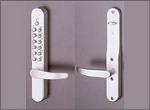 Keylex 800 - Medium Security, Standard Duty Mechanical Digital Lock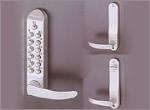 Keylex 500 - Low Security, Standard Duty Mechanical Digital Lock