MANUAL SLIDING FOLDING DOOR SYSTEMS
A combination of hinged folding and manual sliding aluminium doors ideally suited to improve access and maximise the operational area of your premises. Also allows you to divide areas or secure your premises as and when required.
Three Leaf Plan
This leaf acts as locking / access leaf: Open in rebated door leaf with hook bolt dead locks
NB: Door leaf cannot have projecting handles/furniture internally; Door leaf cannot have overhead closers / restrictor arms or powered closers etc.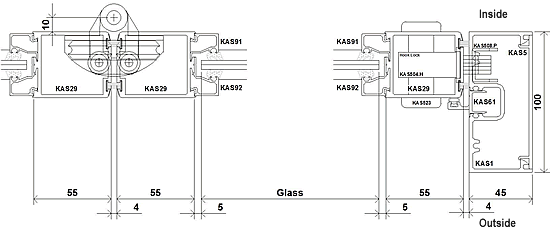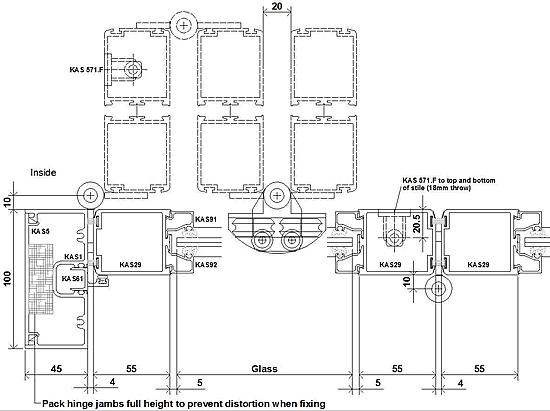 TRACKS MUST BE STRAIGHT AND LEVEL; JAMBS MUST BE STRAIGHT AND PLUMB.
Manual sliding/folding doors - elevation & track details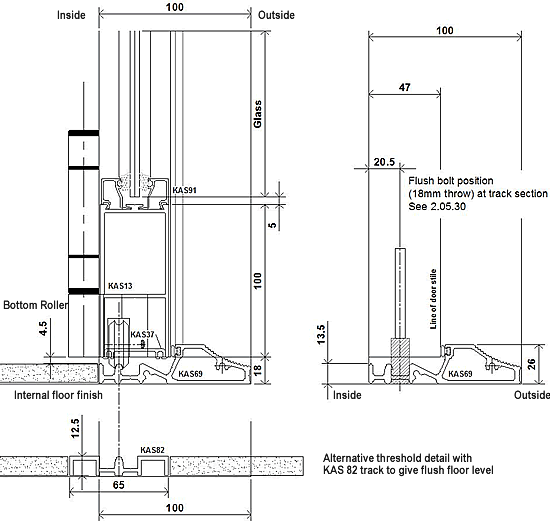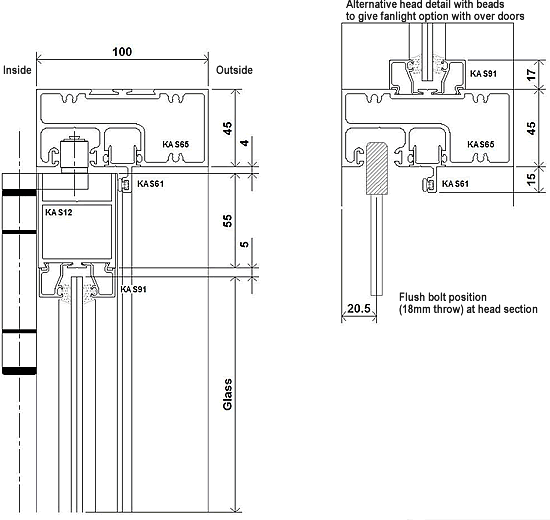 SLIDING FOLDING COMMERCIAL DOORS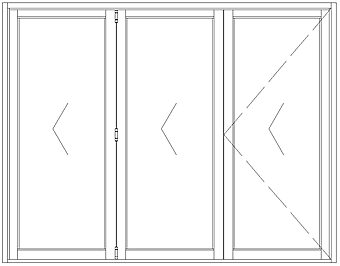 Use dedicated head and track sections to provide fully rebated reveal for doors.

Conventional stiles maintain double weather pile detail.

Top guide and bottom roller are concealed in door leaf.

All hinges face fitted – no complicated preparation is necessary.

Bottom hung – means no headaches with structural head fixing details as with 'hung' systems.

Uses standard flat face flush bolts and normal door locks – hook or latch.

Stile rebate sections can also be added
Concealed top guides and bottom rollers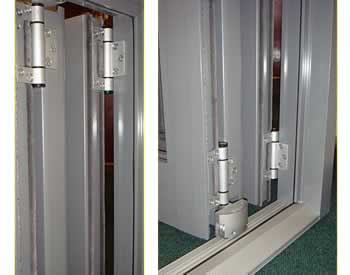 TECHNICAL DETAILS
Hinge system available in natural silver anodised finish only.

Maximum door leaf weight 70kg.

Maximum door leaf width 900mm.

Maximum door leaf height 2700mm.

3 or 5 leaf hinged from one side folding either way.

Stile cut-outs at top guide and bottom rollerlocations only.

Latch lock can be used in conjunction with hook lock if an 'access' leaf is required
Drained & rebated bottom track or flush track available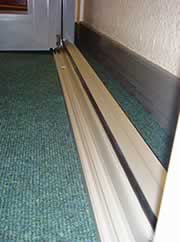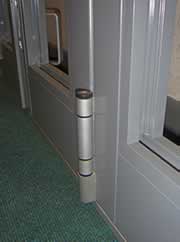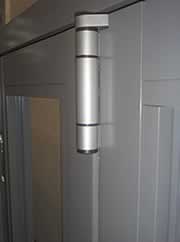 Typical arrangements - all leafs fold to one side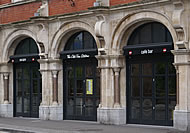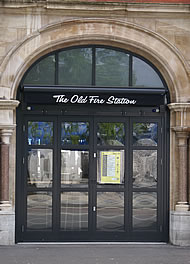 Typical arrangement with sliding folding and single hinged leaf opposite (ok with 3 and 5 panel designs)

System allows for all door leafs to fold to the internal side only and allows use of fully rebated head and jamb sections, rebated track/threshold profile can be used to provide rebate to all four sides for improved weathering. Alternative track (KAS 82) will give flush floor levels internally and externally if preferred.
STANDARD ALUMINIUM DOORSET SPECIFICATION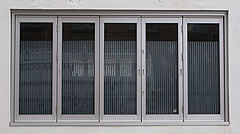 The aluminium doorset is formed from non-thermal aluminium extruded box section. The outer framework is constructed from 100mm by 45mm box section and the door leaves are constructed with 55mm wide stiles and 100mm deep top and bottom rails. Weather stripping is standard on door stiles and top and bottom rails. An option of different midrails can also be included to increase the strength of the door.
The leading swing door is fitted with a euro-cylinder operated hook lock and all other leaves are secured by top and bottom flush bolts. Depending on the door system and size, a minimum of three ball bearing hinges are fitted to each leaf. Various tracked aluminium thresholds are offered to suit the site requirements.

The doors are single glazed with 6.4mm clear laminated glass stamped with BS kite mark. Tinted glass and other options are also available.
Polyester powder coat finished to a standard RAL or BS colour is included. SAA and Bronze Anodised finishes can be supplied on request.