AC TYPE 8 DISABLED PERSONS TOILET SYSTEM (DPTS)
The system is designed to work in conjunction with most types of automatic door operators when used in the disabled toilet environment, whether swing or sliding doors.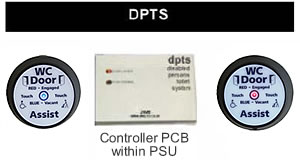 DPTS Control Unit
Adjustable relay output for mag-lock and electric releases

Adjustable output for door opener

Adjustable delay timer for door opener

Inputs for both internal and external system override (Breakglass, key-switch etc.)

12 or 24v DC operating voltage (specify at time of order)

Current consumption 50mA (qui) 110mA (active)
Entry & Exit sensors
Touch Switch technology means sensor can be operated without 'Touch', even when user is wearing gloves

Colourful and aesthetically pleasing signage

'Ultra-bright' LED to assist users with visual impairments

If not engaged the Touch Sensors red indicator will be constantly illuminated

Step 1 - Entry
1) Touch entry sensor and the door opener will activate to provide access or enter manually.

Step 2 - Lock
2) When inside the toilet, touch the internal sensor to lock the door. To confirm the door is locked, the indicator will turn red showing the toilet is engaged and inhibiting the entry sensor.

Step 3 - Exit
3) Touch the internal sensor once more and the indicator turns blue, the door will be unlocked and the door opener activated. Entry sensor becomes operable once again to provide access.
To prevent accidental locking and inhibiting of the entry sensor, a door contact is wired in series with the internal touch switch to prevent accidental triggering on departure.
A break glass and key-switch may be incorporated to override the system in event of emergency
The preferred locking methods are electromagnetic lock or electric strike for swing doors and electronic solenoid locks for sliding doors.