AC TYPE 6 & 7 BELL DDA SYSTEMS
The Bell DDA door entry panels and systems are designed to meet the requirements of the final part of the Disability Discrimination Act (DDA). The panels are manufactured in 2.5mm 316 marine grade stainless steel and can be flush or surface mounted.
Each panel has one or more of the following:

For the blind or partially sighted:
Large permanently illuminated push button. For single station applications the push button is embossed with "CALL" in standard text and Braille. For multi-button applications raised flat numbers and Braille numbers are included. The panel can also be connected to a 12v tone which sounds when the lock is released.

For the deaf or "hard of hearing":
Each panel includes two bright indicator lights; one permanently engraved with "Speak Now" for when a call has been answered, and the other engraved "Door Open" for when the resident has triggered the lock release.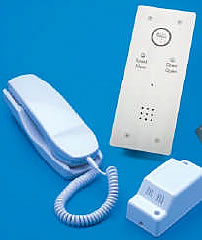 AC TYPE 6 BELL DDA SURFACE
1 WAY SYSTEM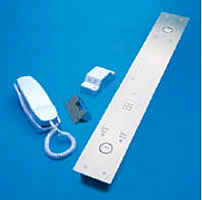 AC TYPE 7 BELL DDA SURFACE 1 WAY SYSTEM - DUAL

For wheelchair users:
These panels have an extended length that allows operation from both able-bodied and wheelchair users at different height; the panel includes two large illuminated "CALL" pushbuttons with Braille. These panels are supplied for flush fitting and with the option for surface mounting.

Resident or Employee facilities:
Added options include; a panel-mount proximity reader for resident or employee access, a CCD camera for connection to a video telephone and Tradesman facilities.
The system will work in conjunction with most types of automatic door operators.