DIGITAL SELECTOR SWITCHES
CAMÉ S6000 / S7000

Built-in (S6000) or external (S7000), digital selector switch, burglar-proof, 7-digit keyboards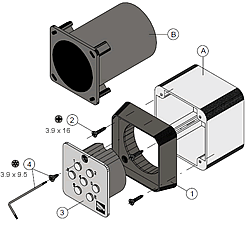 Keys to Diagram:
A) External housing
B) Built-in housing


1) Front frame
2) Frame fixing screws
3) Keyswitch unit
4) Screw and key for unit
TECHNICAL SPECIFICATIONS
Voltage
Current Draw
Power consumption (1)
Personal code
digits
Number of
combinations
Operating
temperature range
Degree of
pretection
12V ac/dc
22 mA
0.3 W
6 max.
1,679,676
max.
- 20°C / +70°C
IP 54
24V ac/dc
70 mA
1.7 W
(1) Values are approximate when unit is in idle mode, with increments of ~50 mA for every exit activated
ASSEMBLY:
Have the wiring from the control card reach the point where the selector switch is mounted:
Use screw anchors to mount the wall-mounted selector switch housing (A) on the wall, or install the built-in housing (B) in the wall, inserting the electric wiring in the casing itself (making use of the marked holes):
Affix the front frame (1);


Make the necessary power connections;


Insert the switch unit (3) and fasten it to the frame.