About Us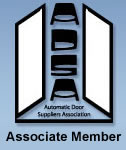 Door Spring Supplies Ltd (Company Registration Number: 6731232) is an associate member of ADSA (Automatic Door Suppliers Association) and all our automatic door engineers are accredited to BS7036:1996 - Code of Practice for safety at powered doors for pedestrian use.
Our scope of operations encompasses the supply, maintenance and installation of automatic doors, manual doors, window controls, car park barriers, steel doors, roller shutters, access control and emergency exit devices.

We supply, repair, maintain and install door and window controls and can assist you with solutions for most situations.

We are distributors of Stanley and Geze automatic door operators and Dorma door closers. We also install Record, Came, Ditec and Tormax automatic door operators.

We can provide disabled automatic door operators, suitable for both commercial and domestic installations, self closing springs and transom closers to aluminium door systems. We offer a wide range of access control products including telephone, video, digital & mechanical, all suitable for office and main entrance doors.

Both the automatic door and access control equipment can be interfaced giving you the ideal solution for secure environments being used by a disabled or handicapped person.

Our specifications are tailored to suit your requirements and we will undertake risk assessments that will help determine the equipment required on your automatic door.

Our engineers have the knowledge and ability to work on most automatic operators. The company has a vast wealth of experience with some employees having over 20 years of service each.

A call-out service and planned maintenance contracts are available to extend the effective working life of the equipment.

We have a trade counter at our Wellingborough offices where you can purchase most of the above plus a variety of door hardware and door furniture.

The Door Spring Supplies Ltd has traded for over 30 years and changed its trading title to Door Spring Supplies Ltd in December 2008.