FERNI HYDRAULIC SWING GATE OPERATORS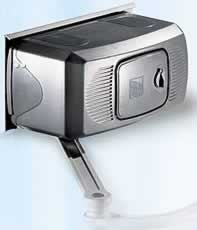 The universal solution:
A universal solution for gates installed on large posts where the installation of a linear operator is impractical or impossible.
A solution that is EASY and SAFE to install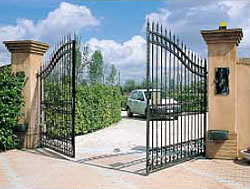 No welding is necessary:

the operator can be mounted on any structure

thanks to its mounting bracket.

No pinch point or scissor movement of the arms.

Single model

for left or right side mounting.

Special space requirements

can use the straight telescopic arm instead of

the articulated arm.

The galvanized transmission arm is

highly resistant to extreme weather conditions.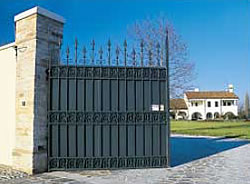 Three versions for a universal solutiont safely locks, opens and relocks
Residential use
The F1000 230V (110V) model with self-locking gears: it is the automation system itself that guarantees the locking of the gates in the closed position. The manual release mechanism, protected by a door and key, easily unlocks the gears in case of power failure. An optional cord release mechanism model H 3000 is available. The F1100 230V (110V) model without locking gears: recommended for gates over 2.50 mt (7 ft). The closure of the gate is guaranteed by means of an electric lock that allows for manual operation in case of power failure.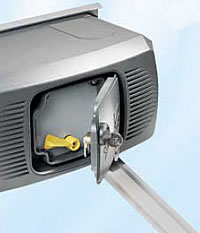 Commercial and condominium applications: The F1024 series commercial swing gate operator is designed for continuous duty cycles along with safety features as in all CAME products. Slow down at opening and closing. It can accommodate inputs from any access control system: radio transmitter, card reader, telephone entry or safety device loops or photocells. It can incorporate an optional battery backup system in case of power failure. The safety features of the 24V system include the possibility to adjust the travel speed as well as the slowdown speed in opening and closing. The obstacle detection feature reverses the movement of the gate upon sensing an obstacle.
Sturdy, quiet and above all electromechanical
The careful choice of materials used, its construction with a permanent fluid grease lubrication, but above all the fact that is electromechanical, eliminates the need for periodic maintenance of the operator.
Technical Charecteristics
Technical information
TYPE
F1000
F1100
F1024
Protection level
IP54 (NEMA 3)
Power supply
230V (110V) A.C.
Motor power supply
230V (110V) A.C.
230V (110V) A.C.
24V D.C.
Capacity
150 W
110 W
180 W
Duty cycle
50%
50%
intensive oper.
Max. Torque
320 N•m
380 N•m
470 N•m
Motor thermal protection
150°C
150°C
Opening time (90°)
18S
18S
from 16 to 45S
Operating temperature
-20°C min. +70°C max
Use limits (1 Kg = 2,2 LBS – 1 m = 3,2 ft)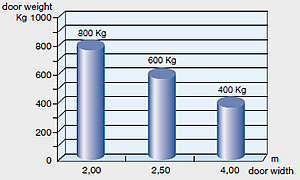 FERNI can be applied to single doors up to 4 mt (12 ft) wide, with distances of up to 380 mm (15") between the hinge of the gate and the edge of the column.
Overall Dimensions

Swing gate system for industrial passage