ATI AND KRONO HYDRAULIC SWING GATE OPERATORS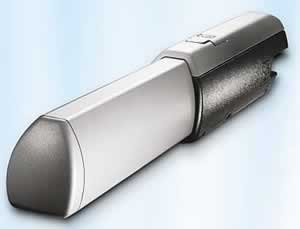 Sturdy, powerful and electromechanical:
these are the qualities that allow this automation system to be reliable over time, even with large gates. CAME offers a complete selection of linear electromechanical gate operators that do not require periodic maintenance or internal adjustments.
An automation solution for every need. The possibility to choose from 11 different operators to meet various applications and requirements such as:
Gate dimensions:

from 1.8 mt (5 ft); 3 mt (9 ft) or 5 mt (15 ft).

Type of operation:

residential or commercial.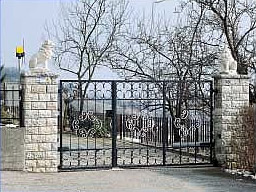 Gate structure and design:

ATI, KRONO models vary in design and external finish to blend with the design of the gate.

Large single leaf gates:

with the ATI 5000 / KRONO5 series, gates of up to 5 mt (15 ft) can be operated even in continuous cycle applications.

Simplified manual release:

all models either reversible or self-locking provide a manual release mechanism in case of power failure. An optional cord release mechanism for the ATI and KRONO series (H 3000) is available.

Sturdy, powerful and electromechanical...
The ATI and KRONO models are built in aluminum to guarantee their sturdiness, compactness and resistance to adverse atmospheric conditions.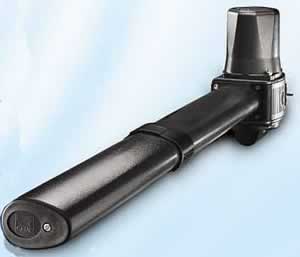 Also for condominiums and intensive traffic applications
The 24 V D.C. models are designed for continuous duty operation. Slow down at opening and closing. It can accommodate inputs from any access control system: radio transmitter, card reader, telephone entry or safety device loops or photocells.
They incorporate an optional battery backup system in case of power failure. The safety features of the 24V system include the possibility to adjust the travel speed as well as the slowdown speed in opening and closing. The obstacle detection feature reverses the movement of the gate, in either direction, upon sensing an obstacle.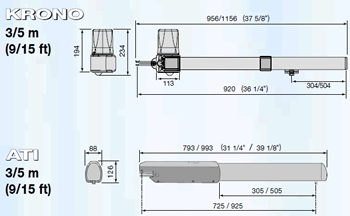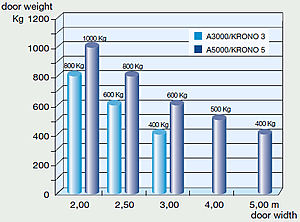 Series
KRONO
ATI
Types
KRONO 3/5
A3000/3100
A 3006/3106
A 5000/5100
A 5006/5106
A 3024/5024
Protection level
IP54 (NEMA 3)
IP54 (NEMA 3)
Power supply
230V (110V)
230V (110V)
230V (110V)
230V (110V)
230V (110V)
230V (110V) / 24V
Motor power supply
230V (110V)
230V (110V)
230V (110V)
230V (110V)
230V (110V)
24V
Capacity
130 W
150 W
150 W
150 W
150 W
120 W
Duty cycle
30%
50%
50%
50%
50%
intensive oper.
Thrust
400 ÷ 3000 N
400 ÷ 3000 N
Motor thermal protection
150°C
150°C
150°C
150°C
150°C
Opening time (90°)
22S/26S
19S
28S
32S
45S
adjustable
Operating temperature
-20°C min. +70°C max
Swing gate system for industrial passage