ACCESS CONTROL TRANSMITTER - CAME T432SA

For every pushbutton (of every transmitter) a different code is saved in series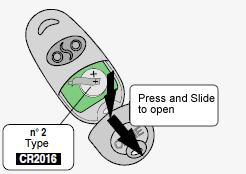 Totally compatible with the CAME Transmitters ...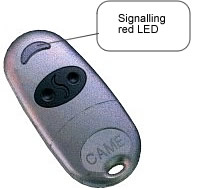 Technical Characteristics
Frequency
Batteries
Current draw in action
Range
Code combinations
dimensions / weight
433.92 MHz
n° 2
3V d.c. Lithium
12 mA
50 ÷ 150 m
1024
32 x 68 x 12 mm
16 g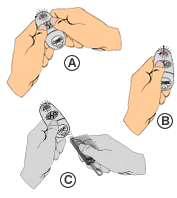 e
USE ON EXISTING SYSTEM
(with TOP at 433.92 MHz)
Press both pushbuttons together (fig. A) until, after 5 seconds of being on, the red signalling LED flashes;
Press the key to encode (fig. B);
Within 10 seconds, bring the existing transmitter closer from the rear part (fig. C) and press the pushbutton you want to copy for a few seconds.
Once it has been saved, the LED changes frequency (slows down) for 3 flashes and the transmitter will be ready to be used.
Repeat 1, 2 and 3 for the other pushbutton (NB the code of another system can be saved).
USE ON NEW SYSTEM
Consult the documentation of the electric board to save the 1st transmitter, then follow the procedure described above to duplicate it in the quantity desired.